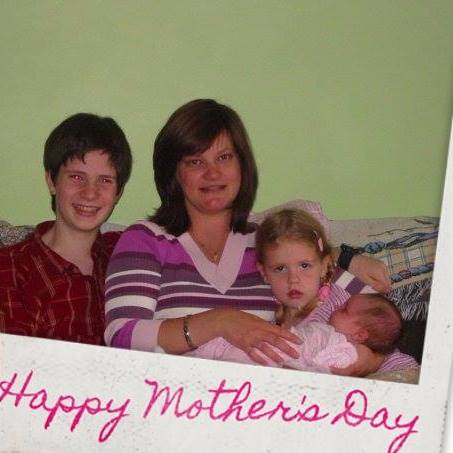 The View From Here – Celebrating Mom
We have been having so much fun with our Mom's Day Off contest and have loved reading your entries about why you deserve a day off.  Mom's really do it all. And as much as we might get too busy to take care of ourselves sometimes, we really do love it.
I love being a mom.  I've got three amazing kids.  Every mom will tell you that their kids really are the BEST kids and they are all right.  (smile)
The older I get, the more I appreciate being a mom.   I am proud of my kids, and super proud we have strong relationships and can share so much with each other.  To watch your kids grow is a gift.  Watching them become independent, and find their way in life is an amazing thing.  To see parts of yourself in your kids is pretty cool too.
My oldest daughter promised me a fun day on Sunday and I'm looking forward to it. It's strange when your kids reach that point where they are grown up and can actually do something for you all on their own.  My husband is off the hook. (smile)  Though I'm sure there will be something for my garden this weekend from him.  I'm excited to see what adventures will happen on Sunday.  Fries under the bridge, a walk on a beautiful trail, flowers from a garden center.
My oldest daughter loves to tell me all the things she loves about me.  Not all the time.  But I really love when she jokes with me, and shares with me how she sees me.  All my quirks and silliness.  I get an idea of what she will remember me with.  It's like getting a glimpse into what they will remember when I'm no longer here.  I'm thankful for those moments, because I miss them with my mom.  I wish I had had the chance to tell her all the things I loved about her before she was gone.
I know I'm not the only one who is missing her mom this mother's day.  So many others I know share the pain of missing your mom on mothers day.  It makes the day so difficult.
I've been missing my mom for over 30 years, and this day never gets easier.  The loss is always there.  You wish you had more time, one more day.
Know that if you are reflecting right now, like I am, you are not alone in it.  I think of my mom with a smile.  I remember her energy.  Lots of laughter.  Always family around.  Music played in the house a lot.  She loved garage sales, and The Young and the Restless.  She loved having family around.  She loved to have fun.  She loved to garden.  I remember her baking cookies, making my tea in the morning to get me out of bed.  She was a joker at times, and just loved life.  I miss her so much.
I asked the question on the Fox Facebook page earlier today – what song reminds you of your mom – and so many of you answered in memory of your mom, and I felt that in my heart.
Songs help us to remember.  For me, it's Hey Jude by the Beatles.  Or David Lee Roth – Just a Gigolo.  She loved to sing that one around the house.  Wind Beneath My Wings played at a memorial service and that will forever remind me of her and bring tears when I hear it.   And for me, when I'm really missing her and just want to feel sad for a minute, and remember her – I will play Madonna's Promise To Try.  Yep, it's sad.  I feel a connection to Madonna too because she lost her mother young.  Younger than me, but still.  The struggle between being strong, and not wanting to let go.  It's in that song.
So it's a bittersweet day for many of us.  As we celebrate being a mom, the most rewarding job of our lives, and still feeling like a little girl who misses her own mother and longs for that lost relationship.
To all who are hurting right now, sending big hugs your way.  Whether it's from a death, a broken relationship, or maybe you've lost a child.  I send love your direction and hope you feel comfort in the hurt and pain.
The only way to understand, unfortunately, is to go through it yourself.
If you are a mom, I'm wishing you a wonderful Mother's Day, and I hope you do something to honour your mom in some way as well.
Every time I do something that reminds me of my mom, I smile.  I'm proud of who I am and it's because of her.
As always – any time you want to reach out – send me an email – cbuchanan@blackburnmedia.ca