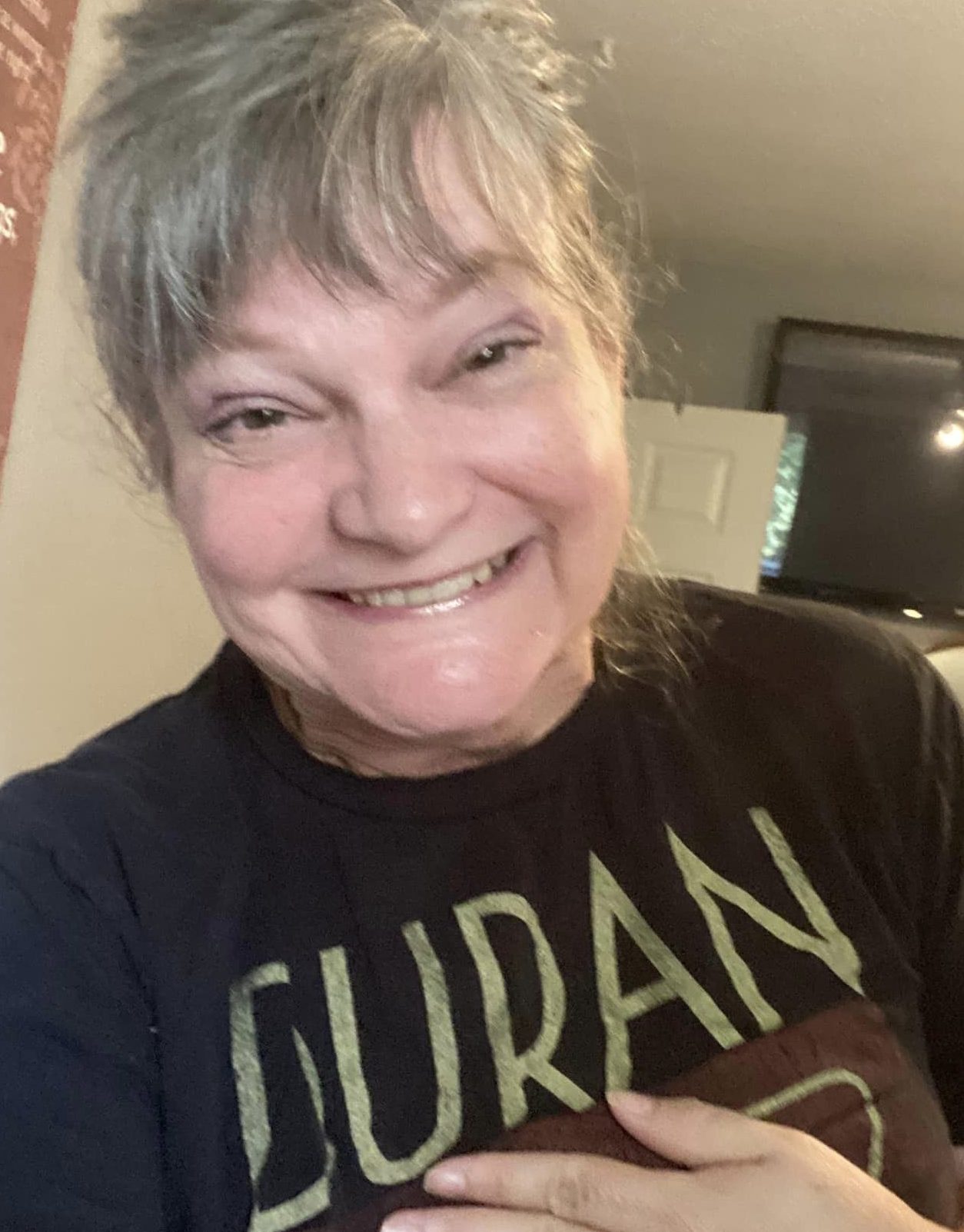 I Am Fan Girling All Over The Place
What did YOU do this weekend?  I got reacquainted with my teenage self at a Duran Duran concert in Detroit.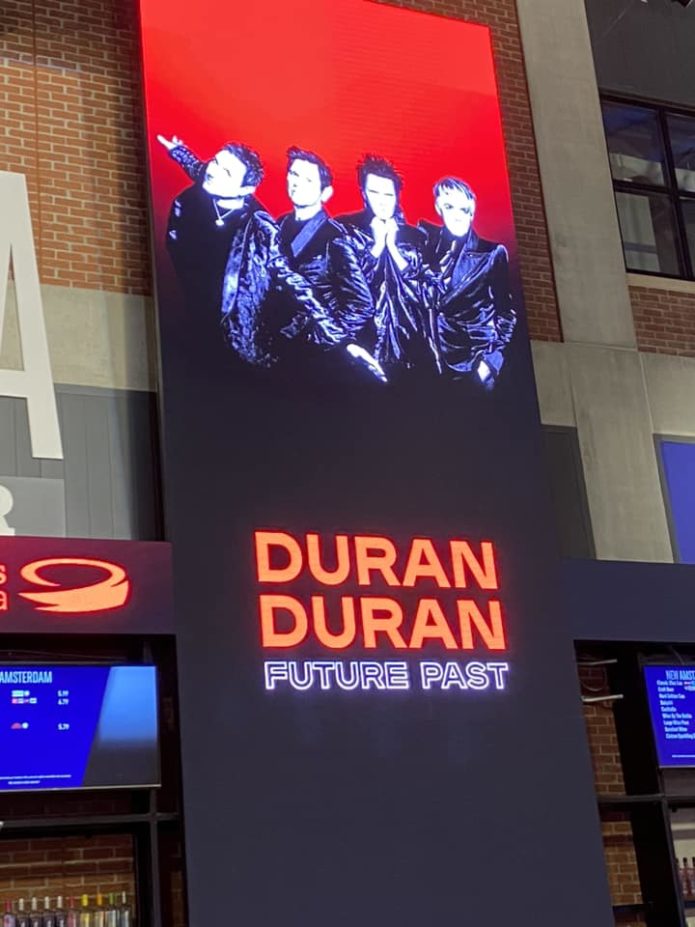 I'm still smiling and can pretty much tell you that the concert hoodie my husband bought me is never coming off. (smile)
The power of music.
I have loved this band for nearly forty (cough) years.  Since that very first debut album.  The first music video that played on MTV back in the day.   Duran Duran is the first band I ever liked so to get the chance to see them live is a thrill.  If you know me, you know that Duran Duran was and IS  "MY" band.   When I was a teenager,  my bedroom walls were plastered with their posters that I bought from those music magazines.
I have owned every album and listened endlessly to every song so it was a thrill to see Duran Duran on stage Saturday night at Little Caesars Arena in Detroit.
I still know the words to every song by heart, so to hear the old stuff played on Saturday night was exciting and the chance to sing along was something I'll never forget.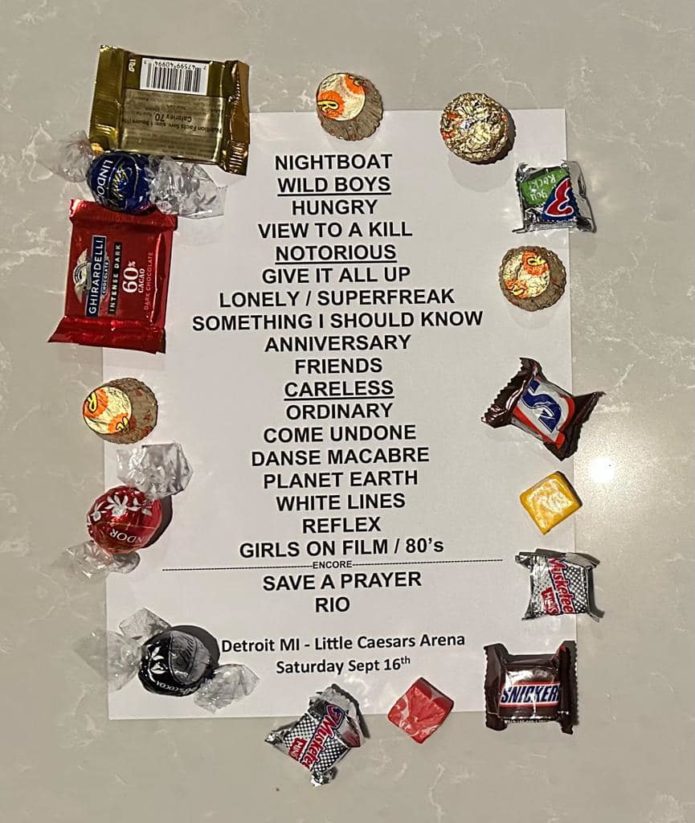 You expect to hear the hits.  The big songs.   What I wasn't expecting was to hear so many from the first album.  Those rare cuts.
The band came out on stage to a thunder of applause. They started the show with Night Boat.  Such an obscure track from their self-titled released but it was so good.
Simon Le Bon was funny and witty.  Introducing the songs with some funny questions and sayings, leading the crowd into every new song.
I loved the mix of pictures from the past shown on the big screens as Is There Something I Should Know played. I loved how during a few of the songs, there was footage of the crowd that showed on the screens, but with special effects that turned the screaming fans into wolves (for Hungry Like the Wolf) or other scary creatures during the Halloween themed Danse Macabre.  So fun to watch.
I loved the mix of songs, but I especially loved the end of the night when Simon asked if we would like to sing a song with the band.  It was the first song of the encore – phones came out, flashlights on, and the arena lit up as everyone came together to sing Save A Prayer.
Such an amazing night.  If you were there, I would love to know what YOU thought of the night.  It was fun to wander around the venue before the show started and see other fans wandering around in excitement, Duran Duran t-shirts, and hoodies.   Pins and posters.   A bond that can't be broken.  Duranies united coming together for what was an incredible show.
Hard to pick a favourite song – but Careless Memories might be one of them.  Anniversary, Come Undone.  Ordinary World dedicated to the people of Ukraine.  Superfreak was a whole lot of fun to listen to.
It's been a long career, but they just keep getting better.  They performed a brand new single – for only the second time – for us in Detroit on Saturday night.  Danse Macabre.  The title track of the brand new "Halloween themed" album that comes out October 27th.  The album inspired by a Halloween show the band played last year in Las Vegas and has been said "to be the soundtrack to their ultimate Halloween party".  John Taylor says the album "offers an interesting insight into the personality of the band" with music that "packs a real punch".  Expect covers of Billie Eilish, The Rolling Stones, Siouxsie and the Banshees and more.
I'm excited to get my hands on it and have already pre-ordered a special limited edition.  The record will include three new tracks, covers and reimagined versions of Duran Duran classics.  Former members Andy Taylor and Warren Cuccurullo play on a few songs on the album.
---
Email me anytime – cbuchanan@blackburnmedia.ca