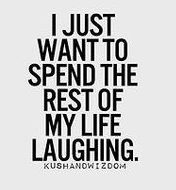 Feel Good Friday – Make Time For Laughter!
You know what they say "Laughter is the best medicine!"   
"They" are on to something.  It's another Feel Good Friday with the Canadian Mental Health Association Lambton Kent – encouraging you to make time for laughter!
"Laughter releases endorphins, our bodies natural "feel good" hormones, which helps to improve our mood, enhance our well-being and reduce stress. Try to find ways to incorporate laughter into your day, whether you connect with friends or family and re-live funny memories, watch a funny movie or a comedy show! Laughter is the best medicine."
What makes you laugh?
When is the last time you had a really good full on belly laugh?
It's hard to laugh when you feel stressed out and unsure.  It's hard to laugh when things are uncertain and you don't feel prepared.   These last few months have been challenging.   But it's so important to find things to do that make you feel GOOD through all of the other stuff and laughter is free for the taking.
I laugh at myself constantly.  I laugh when I look in the mirror.  (smile)  
I laugh when I screw things up.  I laugh when I look at my bank balance (smile)
"If you're not laughing, you're crying."  Someone said it.  I don't know who.  But sometimes, it's so true.
Sometimes you laugh, til you cry.  Those are the best.  The ones where you laugh so hard you can't catch your breath.  Or you don't make a sound. Or you do make a sound and it makes everyone around you laugh harder.
When it gets to feel too much – find something that will make you laugh.   I get the biggest laughs when my kids play with filters on their snapchat.  Or try to get me to do a TikTok dance with them.
You can always listen to the Fox afternoon show every weekday between 12 and 6.  I'm bound to mess up something to make you laugh (smile).
You're welcome!