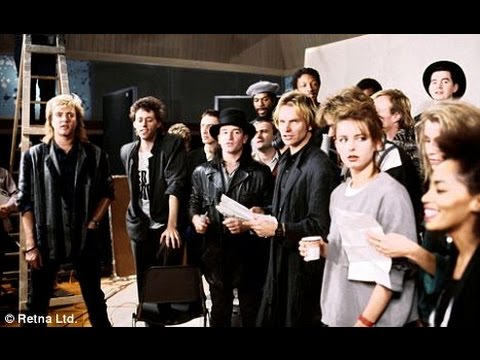 Band Aid – Do They Know It's Christmas
Recorded at Sarm West Studios, in London, England on November 25th, 1984.
The biggest names in music.
Duran Duran, Spandau Ballet, Paul Young, Culture Club, George Michael, Kool and the Gang, Sting, Bono, Phil Collins, Bananarama – and so many others.  Coming together for the now classic "Do They Know It's Christmas?"  to raise money for anti-famine efforts in Ethiopia.  The single exceeded expectations and would become the number one song at Christmas that year.
A few fun facts about the day –
The opening of the song uses a sample of The Hurting from Tears for Fears
Even though it was their project, and their idea – Bob Geldof and Midge Ure didn't have a solo in the song.
And Boy George slept in.  Midge had to call to get him out of bed and tell him to hop on the Concorde to get to London to do his part.