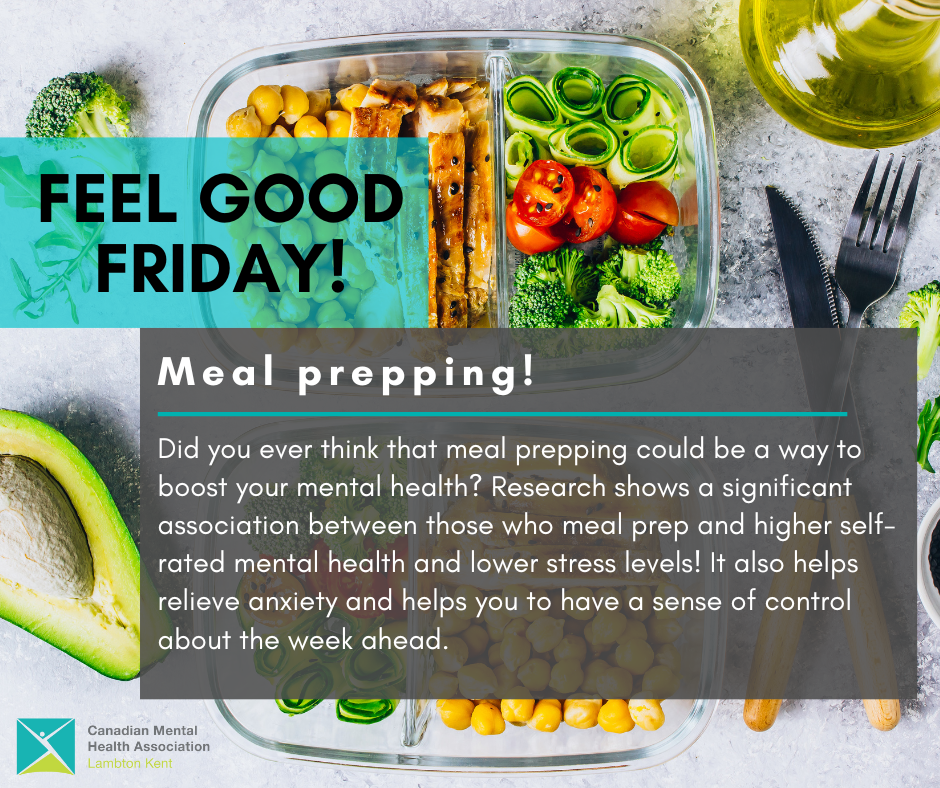 Feel Good Friday – Time To Meal Prep
Every Friday the Fox teams up with the Canadian Mental Health Association Lambton Kent for Feel Good Friday!  Sharing things you can do to take care of yourself, focus on your mental health and help you feel GOOD!
Today it's all about meal prep.  I love to meal prep.  It's one of my favourite things to do on the weekend.  I love cleaning out the fridge, checking the cupboards to see what we have and then looking at the flyers for all the deals, checking recipe books – and then making a list of what we'll be eating through the next week.  It's helped me to stay organized, life feels less crazy, and it helps me save money at the grocery store and waste less food.  Win win.
And when I make something nobody likes, I know about it days in advance.  (smile)
Who knew meal prepping could be a way to boost your mental health!~
---
 

Did you ever think that meal prepping could be a way to boost your mental health? Research shows a significant association between those who meal prep and higher self-rated mental health and lower stress levels! It also helps relieve anxiety and helps you to have a sense of control about the week ahead."
---
Now that's cool to know.  So here's your homework for the weekend.  Put together a list of meals/ snacks for the week ahead.  Get the whole family involved in the process.  Let someone pick a favourite meal each day.
I know that for me, anything that helps me feel in control of something, makes a big difference to my mental health.
---
CMHA Lambton Kent is here to help and our Mental Health First Response Team is available 24/7. Please reach out for help if you need it:
Chatham-Kent – 1-866-299-7447  Sarnia Lambton – 1-800-307-4319