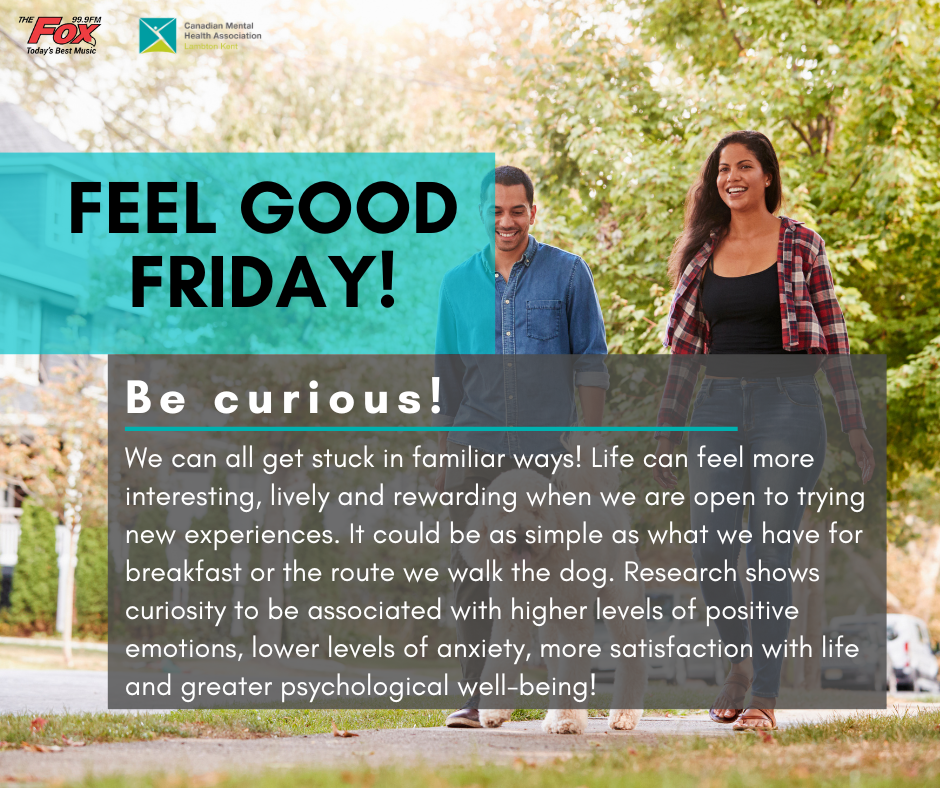 Feel Good Friday – Get Curious
Every Friday the Fox teams up with the Canadian Mental Health Association Lambton Kent for Feel Good Friday. Sharing things you can do to take care of yourself, focus on your mental health and help you feel GOOD!
This week – get curious!
"We can all get stuck in familiar ways! Life can feel more interesting, lively and rewarding when we are open to trying new experiences. It could be as simple as what we have for breakfast or the route we walk the dog. Did you know that research shows curiosity to be associated with higher levels of positive emotions, lower levels of anxiety, more satisfaction with life and greater psychological well-being!
What will you get curious about today?  Where will that curiosity take you?  A new book to read?  Try a new recipe? A new restaurant?  A new conversation?  An online group that shares similar interests?  A new park or trail to explore?  So many possibilities!
Let us know what you're getting curious about.
Did you know that CMHA Lambton Kent's Mental Health First Response Team is staffed by mental health professionals who are available 24/7, even on holidays and weekends? Please reach out for help if you need it:
· Chatham-Kent – 1-866-299-7447
· Sarnia Lambton – 1-800-307-4319