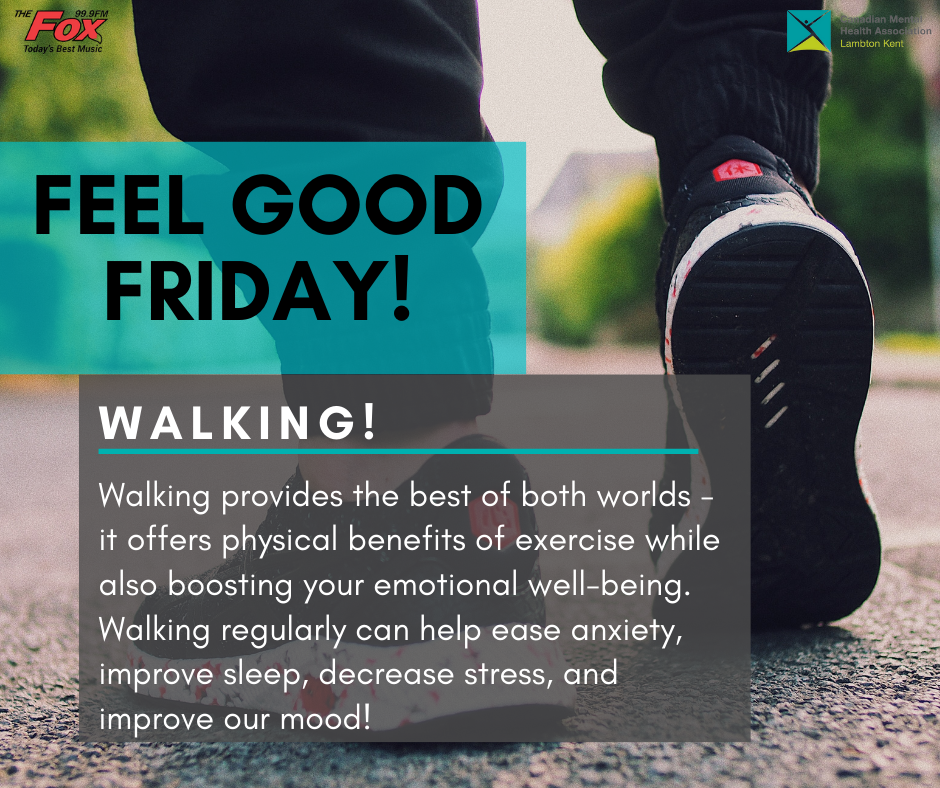 Feel Good Friday – Let's Walk
Every Friday the Fox teams up with the Canadian Mental Health Association Lambton Kent for Feel Good Friday!  Sharing things you can do to take care of yourself, focus on your mental health and help you feel GOOD!
Get out your walking shoes because today we are talking about how good it is to just get out and WALK!
It's finally started to warm up and we have so many trails and beautiful places to see – why not get out and get those steps in!
Did you know that walking offers both physical and mental health benefits? Research shows that walking can boost your emotional wellbeing, ease anxiety, improve your sleep, and decrease stress levels! There are so many trails around our city to enjoy and WALK! Boost your mental health today and get outside for a walk.
Right now we are starting a fun new challenge in the Fox Feel Good group where you are encouraged to get up and get moving!  Join us today to find out how you can help the city of Sarnia compete in a Participaction challenge.  Click to JOIN US today!
And don't forget –
CMHA Lambton Kent is here to help. Our doors remain open. Our Mental Health First Response Team remains available 24/7. Please reach out for help:
· Chatham-Kent – 1-866-299-7447
· Sarnia Lambton – 1-800-307-4319