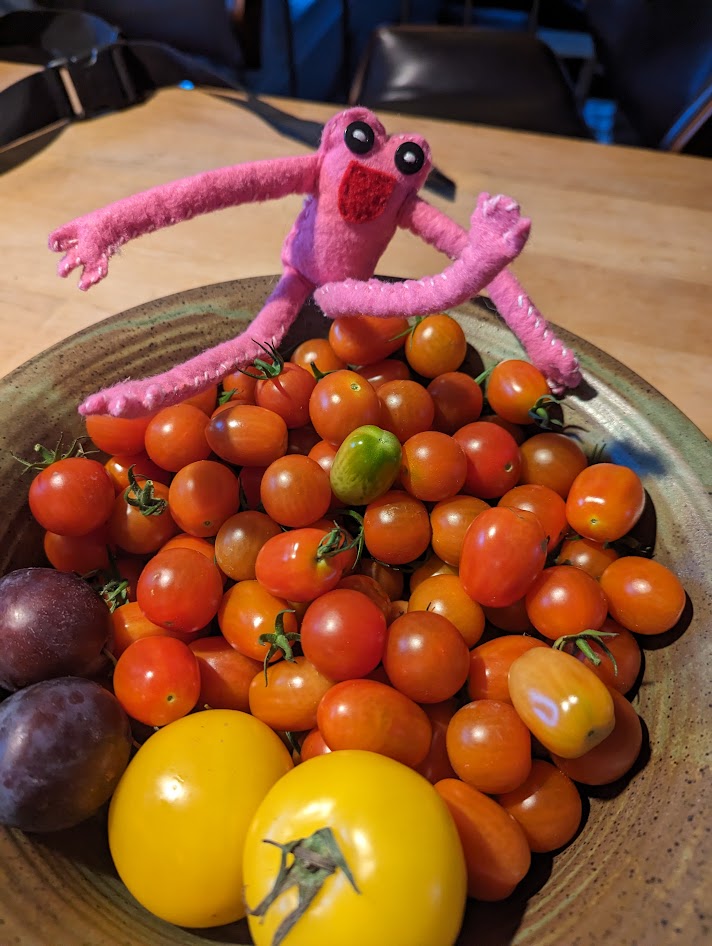 YOU NEED TO MAKE THIS!! Bengali Tomato Chutney
My friend Yoga Ann introduced this to me many years ago, but I kinda forgot about it…
But I was trying to think of what to do with all my tomatoes and remembered it!!
And now I am totally OBSESSED!!
Rob and I stood in the kitchen last night spooning it onto Poppadums' and then spread it on our burgers…SOO GOOD!!
The thing that makes it, is the Panch Phoran which is a spice blend you don't often see, but the recipe to make it yourself is at the bottom of this recipe, plus I have purchased it before at this awesome Spice store in Port Stanley, Pepper Tree Spice Co. and you can order online! https://peppertreespice.com/collections/spice-blends/products/panch-phoran
(FYI the I got the Fruit Frog in my photo at the Rebound Youth Makers Market, isn't she the cutest!!  Thanks to @the_crafty_cat_by.sarah find her on INSTA!
***Let me know if you make it and if you LOVE it as much as I do!! Text me at 519-464-1999 (A1 Security Textline)
***Side note, I don't have a food scale, so I weighed myself holding an empty bowl, then filled the bowl with tomatoes and weighed myself until I got to 2lbs..:) (2lbs, cause I doubled the recipe)
Tomato Chutney (Bengali)
Ingredients
1" cube of ginger peeled
2 Tbsp vegetable oil
1/2 tsp Panch Phoran (recipe follows)
2 whole, hot, dried red chillies (you could use chili flakes
6 good size cloves of garlic mashed to a pulp
1 lb/450 g tomatoes, chopped
1 tsp salt
1/4 cup sugar (adjust up or down to taste based on sweetness of tomatoes)
4-5 dried apricots, cut into 1/2″ cubes
2 whole, fresh hot chillies
Panch Phoran – mix equal parts of the following:
whole cumin seeds
whole black mustard seeds
whole fennel seeds
nigella seeds
whole fennugreek seeds
store in an airtight container
Directions
Cut the ginger, crosswise, into very fine slices. Stacking several slices together at a time, cut them into very fine slivers. Heat the oil in a heavy-based pan over a medium flame. When hot, put in the Panch Phoran. Let the spices sizzle and pop for a few seconds. Now put in the red chillies. Stir once and put in the ginger and garlic. Stir for about 5 seconds. Now put in the tomatoes, salt and sugar. Simmer on a medium to medium-low flame until the chutney begins to thicken. This may take about 15-20 minutes (I find it takes more). Now add the apricot cubes and the green chillies. Simmer and cook on a lowish heat for another 10-15 minutes or until the chutney is thick and has a glazed look. Serve at room temperature.