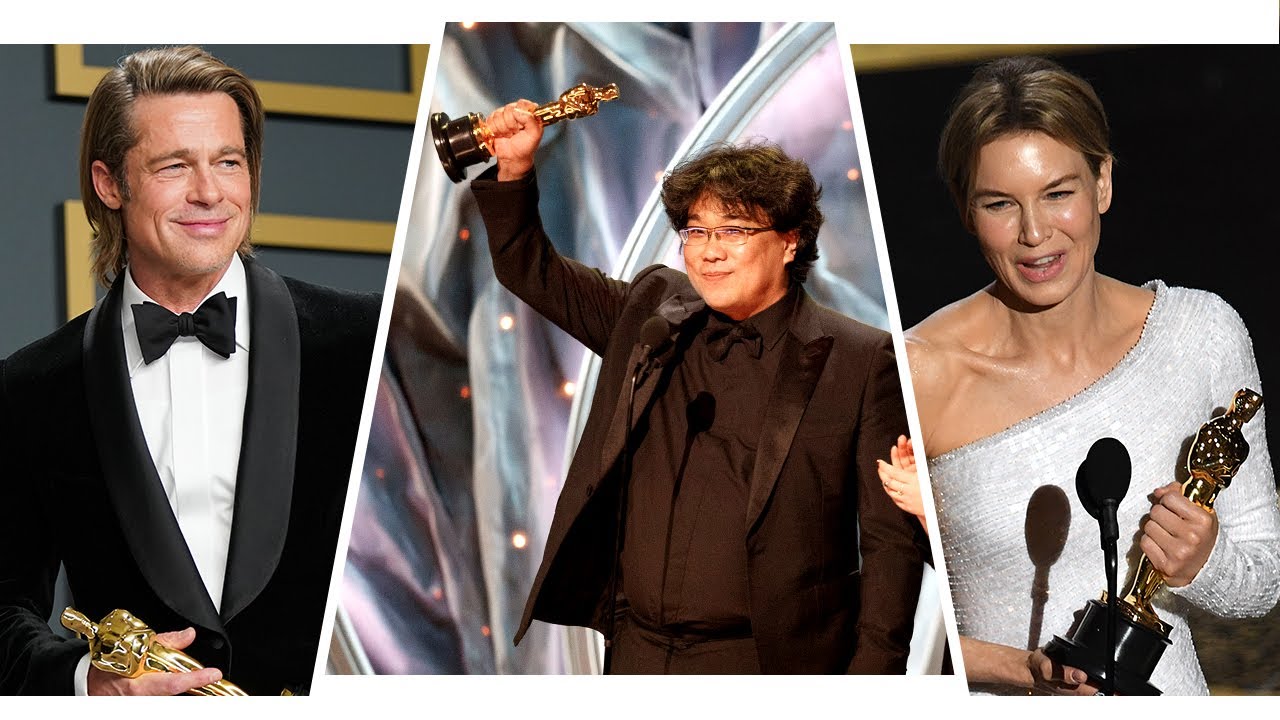 OSCARS!! If You Went To Bed…here Is Everything You Need To Know!
CLICK HERE IF YOU WANT TO SEE ALL OF THE OSCAR RED CARPET LOOKS!
Read on if you want to know who won what!!
Last night in Los Angeles, Neon's Parasite made history as the first non-English language film to win Best Picture at the Oscars.
The film nabbed four wins in total at the 92nd Academy Awards, including for Director Bong Joon Ho, International Feature Film and Original Screenplay. Universal's 1917 nabbed three wins, for Visual Effects, Cinematography and Sound Mixing.
Another three films earned two honors each. Warner Bros.' Joker won in the acting category for Joaquin Phoenix and for Original Score. Sony's Once Upon a Time in Hollywood won for Brad Pitt in the supporting actor category and for production design. 20th Century's Ford v Ferrari won for film editing and sound editing.
Renée Zellweger claimed the Best Actress win for Roadside Attractions' Judy, Laura Dern earned a win for Netflix's Marriage Story in the Supporting Actress category, while Taika Waititi claimed the Adapted Screenplay honor for Searchlight's JoJo Rabbit.
Pixar's Toy Story 4 nabbed the Animated Feature prize, while Paramount's Rocketman won for Original Song.
For the 87th time, no women were nominated for Best Director this year, a subject that was woven into the entire ceremony – and even into some attendees' clothing. Natalie Portman wore a cape lined with the names of female filmmakers who weren't nominated for best director, including Lulu Wang ("The Farewell"), Greta Gerwig ("Little Women") and Mati Diop ("Atlantics").
There were milestones, nevertheless. In winning Best Adapted Screenplay for his Nazi satire Jojo Rabbit, New Zealand filmmaker Taika Waititi became the first indigenous director ever to win an Oscar. Joker composer Hildur Gudnadottir became only the third woman to ever win Best Original Score.
Janelle Monaé opened the show with a medley that highlighted some movies that were released this year. She started by singing Mr. Rogers' "Won't You Be My Neighbor" and then a cadre of backup dancers came out dressed up as characters from Joker, Us, Midsommar, and more. She then started in on her own "Come Alive (The War of the Roses)," and Billy Porter came out to sing it with her.
Former Academy Awards hosts Chris Rock and Steve Martin helped open the event with a few jokes. "We both hosted the Oscars before," Martin said. "This is such an incredible demotion." Martin joked that there would be no La La Land–Moonlight-type mixup this year because the academy was using the new Iowa caucus app.
Chris Rock hit Jeff Bezos, the CEO of Amazon, with a couple of solid jokes about his recent divorce while also noting that even after the separation, he's still the richest man in the world. When Rock asked Steve Martin whether he wanted a crack at Bezos, Martin declined: "I like getting my packages on time."
One big surprise was a performance from Eminem. Lin-Manuel Miranda presented a montage of music in film showing the influence of music on cinema including songs from Footloose, Hustle and Flow, Back to the Future and others. The montage ended with the iconic scene from the 2002 film 8 Mile where rapper Eminem preps to take the stage set to the tune "Lose Yourself." That turned into a surprise live performance from the rapper himself. "Lose Yourself" won an Oscar for Best Original Song in 2003. It marked the first time Eminem was able to perform the Oscar-winning song. He tweeted a video of Luis Resto accepting the Oscar for "Lose Yourself" in 2003 with the caption, "Look, if you had another shot, another opportunity… Thanks for having me @TheAcademy. Sorry it took me 18 years to get here."
Newly minted Grammy winner Billie Eilish gave a soulful performance during the In Memoriam segment, performing "Yesterday" by The Beatles alongside her producer-brother Finneas.
Winners included:
Best Picture: "Parasite"
Best Director: Bong Joon Ho, "Parasite"
Best Actress: Renee Zellweger, "Judy"
Best Actor: Joaquin Phoenix, "Joker"
Best Supporting Actress: Laura Dern, "Marriage Story"
Best Supporting Actor: Brad Pitt, "Once Upon a Time…in Hollywood"
Original Screenplay: Bong Joon Ho, Han Jin Won, "Parasite"
Adapted Screenplay: Taika Waititi, "Jojo Rabbit"
Best Animated Film: "Toy Story 4"
International Feature Film: "Parasite" (South Korea)
Documentary Feature: "American Factory"
Documentary Short: "Learning to Skateboard in a Warzone (If You're a Girl)"
Live Action Short Film: "The Neighbors' Window"
Animated Short Film: "Hair Love"
Original Song: "(I'm Gonna) Love Me Again" from "Rocketman"
Makeup And Hairstyling: "Bombshell"
Visual Effects: "1917"
Cinematography: Roger Deakins, "1917"
Film Editing: "Ford v Ferrari"
Production Design: "Once Upon a Time…in Hollywood"
Original Score: "Joker"
Sound Editing: "Ford v Ferrari"
Sound Mixing: "1917"
Costume Design: "Little Women"