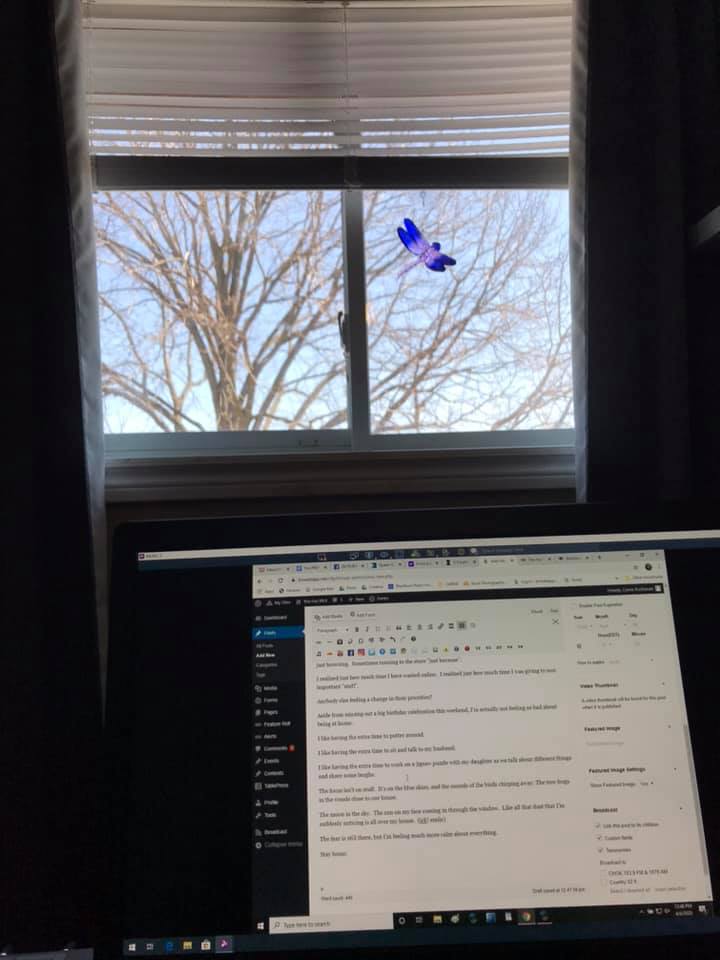 The View From Here
It's Monday. April 6th.  I'm trying my best to still keep track of days and times, though it's all kind of blending together at this point.
How are you?
I feel much more relaxed going into this week. More calm and in control. Despite everything going on around us.
Maybe it's because my kids started calling me "the warden" because I have been so focused on following rules and guidelines and yelling at them to wash their hands even after washing their hands. (smile).
Maybe it's because worrying gets you nowhere.
Maybe it's because I'm trying to find the good in all of this.
More time with my kids.
A more relaxed pace.
I made home made bread this weekend.  I know.  It was odd.  And surprised me too.  After an afternoon in my scrapbook room/ office sorting through pictures and cleaning up the clutter – I decided I would try it.  It actually turned out pretty good for a first attempt.
I made peanut butter cookies.
I watched a bit of Once Upon A Time with my youngest daughter.
I watched as my kids (17 and 13) went outside and drew on the pavement with sidewalk chalk, talking and laughing together.
What a beautiful sound.  I documented it with pictures for proof that they do in fact leave their rooms, and do in fact like each other sometimes. (smile)
I turned off the tv and avoided the news.  I took part in an online church service.  I called my dad.
It was so nice.
I realized just how much I used to waste on weekends running around from store to store.  Sometimes just browsing.  Sometimes running to the store "just because".
I realized just how much time I have wasted online.
I realized just how much time I was giving to non important "stuff".
Anybody else feeling a change in their priorities?
Aside from missing out a big birthday celebration this weekend, and feeling really angry for a while and sad, I'm actually not feeling so bad about being at home.
I like having the extra time to putter around and tackle those little projects around the house.
I like having the extra time to sit and talk to my husband, without the rush to get things done.
I like having the extra time to work on a jigsaw puzzle with my daughter as we talk about different things and share some laughs.
The focus isn't on stuff.
It's on doing everything to stay connected to those around you.
It's on the blue skies, and the sounds of the birds chirping away. The tree frogs in the woods close to our house.
The moon in the sky.  The sun on my face coming in through the window.  And with it, noticing all that dust all over my house.  (ick! smile)  Anybody else noticing just how bad they are at keeping the house clean? (smile)
The underlying fear is still there, but I'm feeling much more calm about everything.  I hope you are too.
It's not easy.
I miss family and friends.  I miss people.  I miss taking my time and browsing at the store.
But I love feeling closer to my husband and kids.
I love having the time for meals together, and digging into some old recipes.  Beans and weiners anyone? (smile)
Stay home. Find the positive in the situation.  Learn a new recipe.  Make the bread or the cookies.  Get your kids involved.
If anything, I am embracing the chance to SLOW DOWN.  Wondering just how much life will continue to be changed even AFTER this is over.