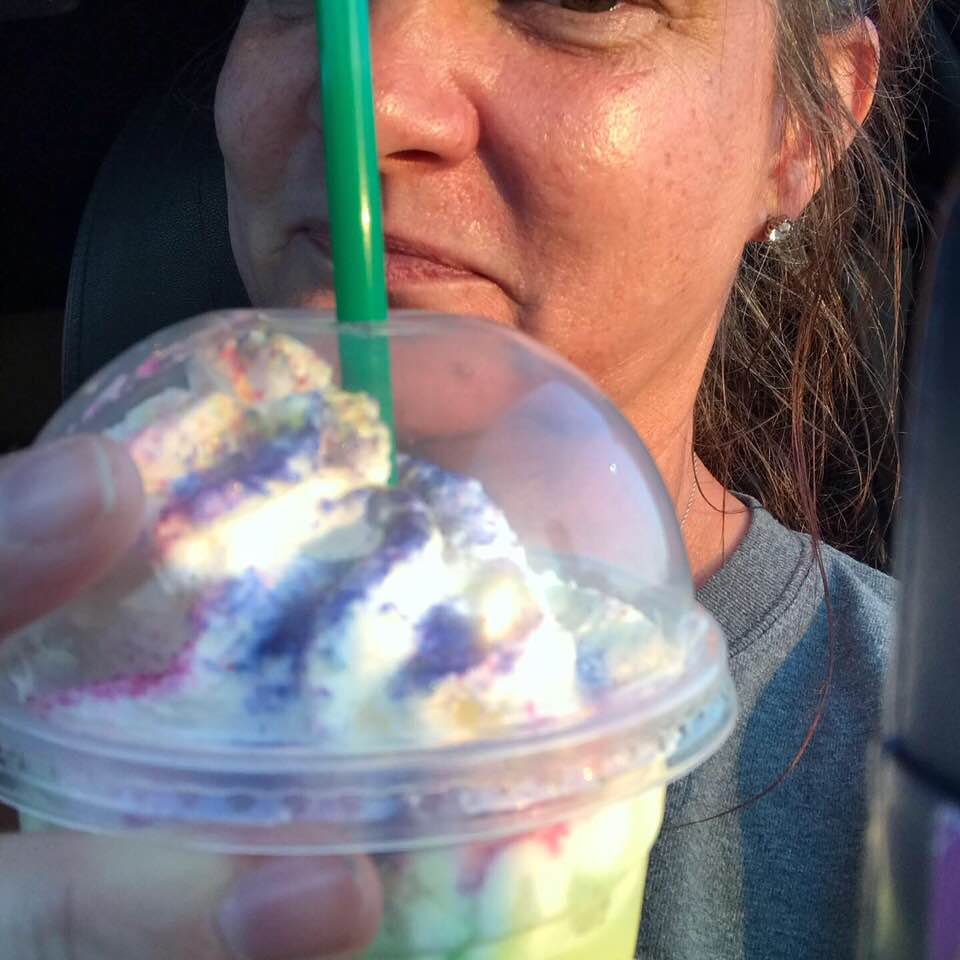 I Tried It!
I was shopping with my youngest daughter last night and we "accidentally" ended up at Starbucks to try the new Tie-Dye Frappuccino.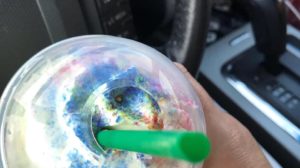 Oh my.  But it was delicious.  Served with a side of nostalgia.
I am a girl that loves the pretty drinks.  The "fun" drinks.
Frappuccino's are a new love for me.  I mean, if you have to save up your money to buy it (smile), it's not something I do often.  But it's summer time and I was spending quality time with my thirteen year old so we allowed the indulgence.
Let me tell you – it was an incredibly delightful summer drink.
I was excited to try it and just as excited to watch them make it.   May I suggest you be patient with those who work behind the counter?  This drink doesn't get assembled easily.  It LOOKS LIKE a complicated process. Lining the cup with different colours.  A yellow mix.  The whipped cream.  Coloured powder on top.  I was in awe of the process and commend all of those working to make this latest trendy drink.  From what I have seen on line, the baristas aren't thrilled to have to make it. It's complicated and a lot more work than the fancy coffees.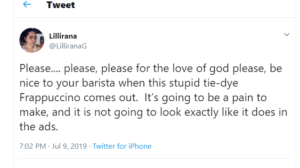 My daughter and I sipped our drinks and analyzed it's beauty, and it's taste.  We struggled to think of what it tasted like.  A familiar taste.  But so hard to put your finger on.
Lemonade?  Banana? Hint of pineapple?  What WAS that taste? So familiar but hard to put your finger on.  Not overpowering at all.  But so familiar!  Some have said it tastes like Laffy Taffy.  Others the stick that comes in Fun Dip.
And then it came to me!
You know what it reminds me of?  Those banana flavoured popsicles we used to have as kids. I'm not even sure they're around anymore.  They would come in two, and you would break them up and share with a friend. But I remember, from when I was younger, those banana flavoured ones were my favourite.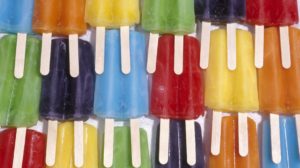 And as you get to the end of the drink, and the whipped cream blends with the flavour, it starts to taste like banana cream pie in a weird way.
And here's a fun fact – it gets it's crazy coloring from turmeric, red beets and spirulina. Bring on the antioxidants!  Which means, it's good for you, right? (smile)
I enjoyed it.
Would I have it again?  Probably not.  Not because I didn't love it.  But some things are bucket list worthy, you check it off, and then you're done.
The new Tie-Dye Frappuccino is only available for five days or until supplies run out.  If you try one, share a pic and let me know what you think!